ESE Colloquium
S
tarting with 12.03.2020, until further notice, the ESE-colloquium will take place
exclusively
virtually using our conference system.
Meeting Information
Other ways to join

Join by video system
Dial
841747358@unistuttgart.webex.com
You can also dial 62.109.219.4 and enter your meeting number.
Join by phone
+49-619-6781-9736 Germany Toll
+49-69-2551-14400 Germany Toll 2
Access code: 841 747 358
---
Welcome to SE-Colloquium, our almost weekly appointment for talks on software engineering research. We host presentations of works by our students (including, but not limited to, thesis presentations and research or implementation projects), our research team, and invited guests.
Our regular schedule is every Thursday, from 14:00 to 15:30, room 1.212, Universitätsstraße 38, 70569 Stuttgart, Germany.
Proposals for presentations about student works should be sent to their own supervisors.
Proposals for any other presentation can be sent to Dr. Daniel Graziotin.
Attending the Colloquium as audience is free to the public, no registration required, and it is very welcome by the SE-ISTE group.
Infos and rules
For projects started after February 2020: English is preferred.
Intermediate Presentation (Zwischenvortrag)

10 min presentation + 10 min discussion.
Only BSc and MSc theses, ca. 1 month in.

Final Presentation (Abschlussvortrag)

20 min presentation + 10 min discussion.
All project types, ca. 6 months in.
Schedule
Date
Title
Presenter(s)
Supervisor(s)
25.02.2021

Final BSc thesis: Developing a digital signage solution for office presence

Christoph Goller
Jinghua Yu, Cornelius Rusch
04.03.2021

PhD proposal: Domain specific Conversational Companion for Software developers.

Sivasurya Santhanam
25.03.2021

Final BSc thesis: Tool Support for Systematic Literature Reviews: Analyzing Existing Solutions and the Potential for Automation

Burak Karakan
Dr. Justus Bogner

Final MSc thesis:

Data Integration and Analysis Approaches in the Context of Automotive Events: A Case Study with Active Driver Assistance Systems
Markus Haug
Dr. Justus Bogner
29.04.2021

Final BSc thesis: Secure infrastructure for exchanging rules in static code analysis tools

Timo Pohl
Sara Ghatta
06.05.2021
Final MSc thesis: Collecting telemetry data
Xusong Wang
Sara Ghatta
17.06.2021

Final BSc thesis: Adoption of a new, efficient database architecture for the comet stream simulation tool IMEX

Samuel Gigliotti
Dr. Daniel Graziotin
Kontakt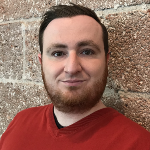 Dr.
Daniel Graziotin
Senior Researcher (Akademischer Rat)